September 12th, 2013 · No Comments
September 10th, 2013 · No Comments
Today at 6pm, Houston's very own The Tontons play a free show at Aloft Hotel near the Galleria (5415 Westheimer) as part of Paste's Live At Aloft Hotels concert series.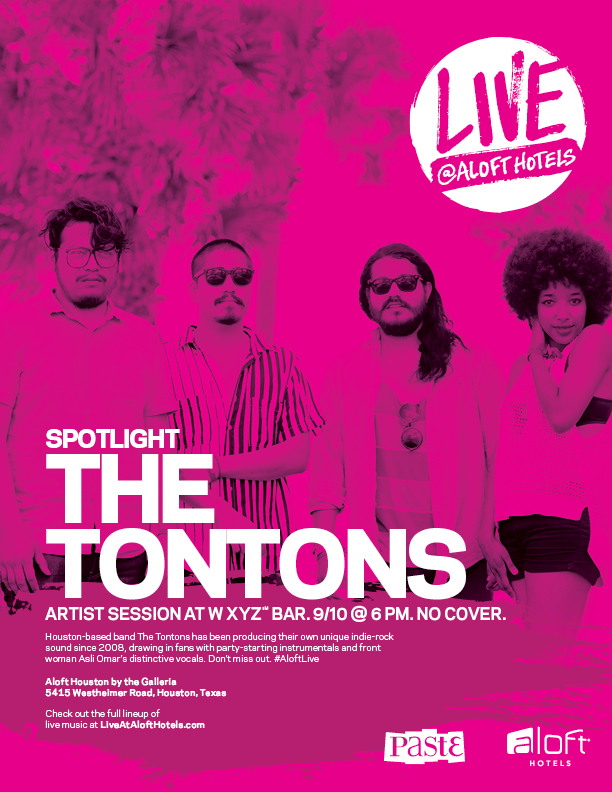 I just heard about this one, but Tody Castillo plays with a full band tonight (Saturday, 8.11.13) at the Continental Club in Houston. Tody hasn't been playing many local gigs lately, as he moved to Austin a while back. It should be a good chance to catch some of his new material.
BEST LOCAL RECORDING
The Niceguys, James Kelley
BEST LOCAL SONG
Cindy Pruitt, "Epiphany"
BEST LOCAL MUSIC VIDEO
Junior Gordon Band, "Big"
LOCAL MUSICIAN OF THE YEAR
Texas Johnny Brown
BEST NEW ACT
Oceans of Slumber
BEST SONGWRITER
Libby Koch
BEST PRODUCER
Darryl Youngblood
BEST MALE VOCALS
Josh Fuller (Josh Fuller and Dirt & Diesel)
BEST FEMALE VOCALS
Annika Chambers
BEST GUITARIST
Sam Austin (Libby Koch)
BEST BASSIST
Adam Walker (Josh Fuller and Dirt & Diesel)
BEST DRUMMER
Gabe Bravo (The Trimms/Shotgun Funeral)
BEST KEYBOARDS
Ezra Charles (Ezra Charles Band)
BEST OTHER INSTRUMENT
David Weinzapfel (steel guitar, Junior Gordon Band)
BEST SOLO RAPPER
Fat Tony
BEST RAP GROUP
H.I.S.D.
BEST RAP DJ
DJ Mr. Rogers
BEST CLUB DJ/DJ NIGHT
DJ Sun
BEST POP ACT
Chase Hamblin & the Roustabouts
BEST LATIN ACT
La Sien
BEST JAZZ
Free Radicals
BEST BLUES
Texas Johnny Brown
BEST SOUL/FUNK/R&B
Electric Attitude
BEST REGGAE/SKA/DUB
The Suffers
BEST ZYDECO
Zydeco Dots
BEST COUNTRY
Justin van Sant
BEST FOLK/AMERICANA
Grievous Angels
BEST TRADITIONAL ROCK
Grandfather Child
BEST MODERN ROCK
thelastplaceyoulook
BEST GARAGE/PUNK/HARDCORE
The Dead Rabbits
BEST METAL
Oceans of Slumber
BEST EXPERIMENTAL/NOISE
Illegal Wiretaps
BEST ELECTRONIC ACT
Bang Bangz
BEST COVER/TRIBUTE ACT
The Fab 5
More information at houstonpress.com.
British musician Bobby Long returns to Houston tomorrow (Thursday, 8.8.13) to perform two shows — one at Cactus Music at 4:30pm (which is free), and another that night at Fitzgerald's. Long is touring in support of his recent album, Wishbone, which you can buy here.
I caught a set by Long at SXSW 2011 and was impressed. I look forward to see how the last couple of years in the US have affected his sound.
Tickets will be available at the door, or you may purchase online at www.fitzlivemusic.com.
More on Long is available at http://bobbylongnews.tumblr.com.
The annual Houston Press Music Awards are coming up this Tuesday, 8.6.13, and today (Sunday, 8.4.13) is a great chance to check out a slew of talented local musicians. Entry to the event, which starts at 4pm in and around House of Blues downtown, is only $15 at the door.
You can see two of Houston's finest today at 6pm at Discovery Green in downtown Houston. Both bands, Chase Hamblin & The Roustabouts and The Suffers, are fresh off their appearances at this year's Free Press Summer Festival, and are both promoting new material. This is a great chance to catch the bands in a free environment, which is part of the UH Downtown Summer Concert Series.
More information on the bands may be found below:
Free Press Summer Festival continues today (Sunday, 6.2.13). Houston's own DJ Sun (of Soular Grooves fame) will perform during FPSF this afternoon. His new album, One Hundred, was recently released (purchase it here).
Stream a 2011 set from DJ Sun below:

DJ Sun performs during FPSF on Sunday, 6.2.13, at 3:10pm on the Jupiter Stage.
Free Press Summer Festival kicks off today in Houston, and if you're one of the tens of thousands to get a pass early, be sure to make plans to catch Austin's The Octopus Project. I've been a long-time fan of the theremin-jamming foursome, and the band's live performances have never disappointed. The band is set to release its fifth album, Fever Forms, on July 9th, and you can get a digital EP (including a video) of the album's first single here.
Here's a live video to whet your appetite:

The Octopus Project plays FPSF on Sunday, 6.2.13, at 8:20pm on the Jupiter Stage. Enjoy!
Our friends over at the always-excellent Space City Rock have been steadily posting coverage leading up to this weekend's sold-out Free Press Summer Festival.
View their rundowns here: Part 1 | Part 2 | Part 3 | Part 4
Be sure to check out Space City Rock for all the latest local music news and show listings.
FPSF is this weekend (June 1-2, 2013) in Houston's Eleanor Tinsley Park. The fun starts tomorrow at 11am. See you there!