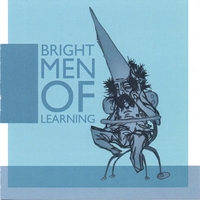 Bright Men of Learning
Self-titled
This is an album the Rolling Stones wish they could still make. While the Stones' output over the last decade or more has been mostly flaccid attempts at recapturing the fire of their long-ago youth, Bright Men of Learning take a few pointers from the elder statesmen of rock'n'roll and use their influences and own experiences to create one of the strongest, most cohesive albums of the year.
Made up of Houston rock vets — singer/guitarist Marshall Preddy, drummer Jeff Senske, bassist Johnathan Sage, and guitarist Chris Kahlich, along with newest addition, multi-instrumentalist Ben Murphy — Bright Men of Learning inject a heavy dose of nineties indie rock into a blend of old-style pop and early alternative. At times, the music brings to mind Pavement and The Replacements, seventies-era Stones, and Big Star, but it also showcases the group's more modern appeal. "Right On!" and "Girls In Love" best reflect this aesthetic, while the very Stones-y "Geronimo" (which is almost too close to "Shattered" for its own good), "A Step Behind," and "For Real" show that the band members remain in touch with their musical roots.
Throughout the album, Preddy's Johnny Thunders-meets-Mick Jagger throaty vocals are addictive, and the music — solidly played, guitar-based indie pop the band calls a "sonic mid-life crisis" — makes it impossible not to like this album. Besides, there's not a weak song in the bunch. Mick would be proud.–David A. Cobb